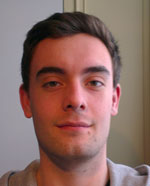 Firstly, I would like to say how honoured I am to be a part of the HegartyMaths team to help develop and spread this new method of teaching.
As someone who has been taught via the flipped learning method before HegartyMaths.com was created, I know that had a tool such as this website been available to me, it would have been hugely beneficial in my studies.
I am extremely proud of how the website currently looks and functions. It is the culmination of many many hours and some very late nights.
My background in web design and development goes back about 7 years when I began self learning various web languages. I am now fluent in HTML, CSS and PHP. I enjoy the challenge of being faced with real world problems, and having to find a way to solve them.
You only get out what you put in
I have just finished my A-Levels and hope to pursue a career in website/software development.
If you have any comments about the sites functionality please feel free to contact me at [email protected]