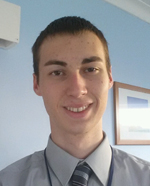 It's a pleasure to have been on the web development team at HegartyMaths as I was once taught by Colin Hegarty and Brian Arnold. Ever since meeting these inspirational people, I have had an interest in helping others succeed in their maths studies through flip learning!
I have been creating websites since I was 10/11 years old, firstly starting with click and drag website builders, then shortly beginning to learn HTML & CSS. Coding is one of the things I am most passionate about in life as it opens up unbelievable possibilities for use of technology throughout our daily lives.
I have qualifications up to A-Level standard, and I am now progressing in my life into a Software Engineering role with a multinational company.
My personal quote is;
Never give up. Just try harder and you will succeed!
A celebrity who inspires me is Sir Alan Sugar, as I admire his determination to be a success. Just like him, I love a challenge, and I feel a great sense of achievement when a project is completed.
A link to my portfolio work is coming soon, in the meantime, feel free to email me at [email protected]